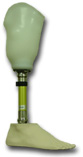 Dans la série bodyguards de star, après le gars qui se fait massacré par les potes de 50 cent, c'est au tour des gardes du corps de J-Lo d'innover avec… de l'arrachage de jambe.
Source: Ireland Online
Paul McCartney's wife Heather Mills McCartney lost her prosthetic leg during a violent confrontation with security guards at Jennifer Lopez's New York office.

The incident happened on Tuesday as the model turned animal rights activist attempted to deliver a People For The Ethical Treatment Of Animals (PETA) DVD showing creatures being killed for fur to Lopez, following a demonstration at which the 37-year-old pleaded with fans to boycott the superstar's music, movies and clothes because she uses fur in her fashion range, Sweetface.
Premièrement: la femme de McCartney est unijambiste?? Et puis depuis quand il a une nouvelle femme, elle est pas morte du cancer il y a 2 ou 3 ans?
Secundo: PETA. J'aurais été tenté de d'avoir pitié d'elle et de blâmer les bodyguards trop agressifs. Mais elle fait partie du PETA et rien que pour ça elle l'a meritée, on ne menace pas le steak d'un homme impunément.