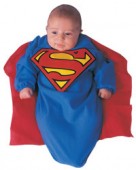 Nicolas Cage vient d'avoir un fils.
Alors on connaît tous la grande mode chez les stars qui est de donner comme prénom le nom de l'endroit où l'enfant a été conçu. Mais Nick n'aime pas cette idée stupide et donc a décidé de lancer sa propre mode pour nommer les enfants de star en commençant par son fils qu'il a baptisé… *roulements de tambours*… Kal-El.
Oui, vous avez bien reconnu, Kal-El, comme le nom kryptonien de Clark "Superman" Kent. Ahhh c'est beau Hollywood, je lui donne pas 12 ans à ce gosse avant qu'il ne sombre dans la drogue et fasse sa première tentative de suicide.
Jor-El : Your name is Kal-El. You are the only survivor of the planet Krypton. Even though you've been raised as a human, you are not one of them. You have great powers, only some of which you have as yet discovered.