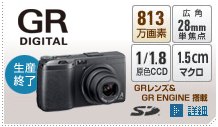 According to the official Ricoh website, the GR Digital is now out of production. It had a good life, now it's over.
As you may know, I bought this camera last year after reading raving reviews and a friend of mine recommended it. A lot of photography enthusiasts own this camera in Japan and you can see that from the GR Digital photos on Flickr.
Its killer points were, among others:
a wide angle 28mm lens (convertible to 21mm with an extra adapter)
old school film-like grain with higher ISO
full manual mode
double clicker wheels for ultra-fast, one-handed option settings
All in a snazzy black magnesium body for a professional look&feel.
Now from the different rumors running around photography forums and camera shops of Shinjuku, it seems there might be a new version coming to replace my favorite camera in November/December of this year. I can't wait…