As I said in a previous post, I do not have a driving license it every now and then I get itchy and think about getting one. So the other day, feeling itchy, I scanned the web to find driving schools close to my new home in Ikebukuro and found the Koyama driving school.
Interestingly, they claim to be the only driving school in Tokyo to cater to the gaijin population by offering a curriculum entirely in english. So I checked out the prices on the English and Japanese versions of the site for basic manual license:
Japanese: ¥302,950
English: ¥398,630
Wow, those bilingual driving teachers sure come at a big premium don't they? Well if you compare the detail of the prices here's what you find: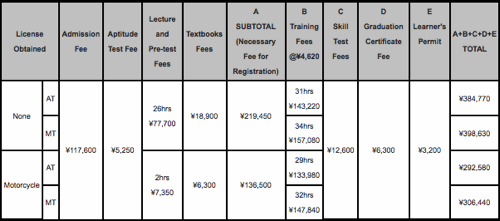 So if you actually compare the detailed split-up, the english textbooks cost ¥18,900 compared to ¥5,250 which I can understand. All the lesson/test fees are the same. The only other difference is that the entry fee is ¥83.000 more expensive if you sign up in english…
Now the interesting thing is not that it's more expensive, I would consider it normal to have higher lecture/training fees in english language in Tokyo. What's shocking is that there is so little awareness of "discrimination being bad" in this country that no-one thought it a bad idea to write down the price hike for this special service (which could be justifiable) as a random meaningless admission fee.
Suffice to say, I will not be bringing my business to this shop…