Yesterday I was watching TV pretty late as I was backing up my laptop to prepare for installing Leopard, and I found a pretty cool program called 恋愛百景 on TV Asahi. The name translates to "The 100 views of Love" referring to the famous series of artist Hokusai.
The concept of the show is to give dating advice to guys, mostly where to bring the girl and what to say to her to maximize your chances of success, the whole thing being acted out by some random actor and a cute ドラマアイドル.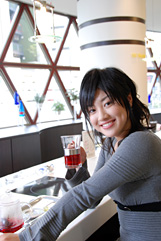 So last night's episode was about how to bring out your 先輩 from university on a date and impress her without killing your budget. A full-day plan is given good cheap restaurants (in this case Matsuzaka beef lunch for 1000¥) and cool places where you can entertain your date for free: the TEPCO building in Shibuya and the SONY showroom in Odaiba. Some specific tactics were also given, like calling her 'Senpai' (a rather formal thing to do) so she doesn't view it as a desperate attempt to get in her pants until you build up romantic momentum with photo posing with the cool camera you rented for free at the SONY place and printing out (still for free) a nice portrait of both of you. Then you are supposed to bring her to the Tokyo Tower, call her finally by her first name and ask her what she feels about you in the climax of the sunset over Tokyo bay.
I think it's a cool way to get those geeks watching TV at 1:30AM to find a girl and maybe rise the abysmal birthrate of the country…