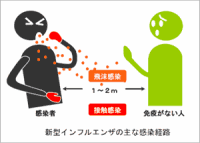 Since coming back from Golden Week vacations, my company has been sending flu-related information by email to all employees twice a week.
Last week we had an employee coming back from the US get yanked into quarantine at Narita for a week because he sat in the vicinity of a guy with a fever.
Today we received the following email:
Due to prevention of New type Flu, VTSJ Safety & Health Committee would like you to deploy as followings.

Before coming work place, it is necessary to check your body temperature. If you have more than 38℃ of fever, Report to your manager and call to inquiry counter (phone desk organized by the health ministry).

*If you are not able to talk by Japanese, inform to your HR Department.

When your team member will be infected a flu, Manager must report it to Safety Group by attached format. Manager must ask your team member to avoid coming to his/her work place until approval from Public Health Department.
Along with PDF flyers about proper hand washing and "coughing etiquette" as well as the official excel-made (everything is made with excel in Japan) "Flu Patient Declaration" form for use by managers to report to Human Resources.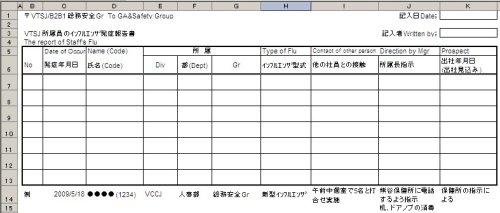 One of my team members didn't come to work today because he wasn't feeling good. I'm tempted to rat him out to the company with the provided form and get him quarantined until next week… (^o^)/