If you're in Japan and you want a free (or almost free) WiFi router, here's your chance.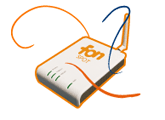 One year after its introduction in Japan, the FON network gives away their Fonera routers for free this weekend only: Saturday 8th and Sunday 9th December. These cool little boxes let you share your connection safely with the public, and if you do you'll be granted free internet access through all the other boxes in the network: 208.000 access points around the world, 25.000 in Japan only.
I got one for free 1 year ago when they did the same campaign for the launch, it's a nice initiative.