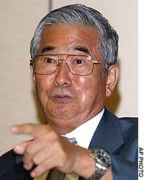 Shintaro Ishihara, le gouverneur de Tokyo, s'est fait connaître de la France cet été après avoir declaré que la langue française était inadaptée à la pratique des mathématiques (parce qu'on dit soixante-dix, quatre-vingt et quatre-vingt-dix).
Apparemment, ce n'est pas la première fois que ce monsieur raconte des histoires à dormir debout qui n'ont rien à voir avec son boulot de gouverneur de Tokyo. C'est une habitude chez lui et le Japan Times vient de sortir un articles récapitulant quelques-unes de ses âneries :
Source : The Japan Times Online
ON INFERTILE WOMEN: It's pointless for women who have lost the ability to reproduce to keep on living.
[…]
If all Japanese women who claim they "can't" (for many, read "won't") have kids are simply threatened with immediate extermination, we reckon they'll set aside their frivolous quest for parity in the boardroom soon enough, and start paying more attention to their true purpose on Earth: having lots of babies.
On manque d'hommes politiques marrant comme ça en France. Je suis sur que les débats politiques à la télé auraient beaucoup plus d'audience si on avait un ou deux mecs comme ça pour mettre un peu d'ambiance…