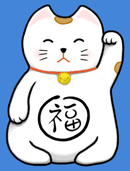 … au petit-déjeuner :
Source : Mainichi Daily News via Japundit
SAITAMA — A cat chewed the toes off the right foot of an elderly woman with senile dementia while she was asleep at a home for the aged here, home officials said on Saturday.

A woman who shared the room with the elderly woman raised the alarm at about 5 a.m. on Thursday and workers of the home rushed to the room.

They found the 88-year-old woman bleeding from her feet, with all the toes missing from her right foot. Paw prints of a cat were found on the floor of the room.
Saitama c'est la province où je vais habiter dans 3 semaines.