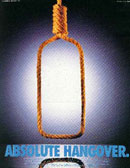 Hier soir, je suis allé rejoindre Marc et un des ses potes au Crocodile. Comme d'habitude, on est serrés comme des sardines passées au rouleau compresseur, mais c'est pas si mal, ça force à faire connaissance avec ses voisins, dans notre cas deux jolies californiennes que j'ai impressionné avec mon tshirt Bayside Tigers. Edouard nous a vite rejoint, et c'est là que tout a basculé…
J'ai connement voulu faire un concours de Rio Grande avec Marc mais au troisième j'ai dû déclaré forfait. Pour ceux qui connaissent pas, le Rio Grande c'est gin, tequila, rhum, vodka, cognac, avec un soupçon de grenadine pour la couleur. Dans un grand verre, c'est très moche.
Donc j'ai écourté la soirée pour disparaître dans la ruelle d'à côté et repeindre un mur. Puis je suis rentré à pied chez moi (un effort surhumain, j'ai failli passer la nuit assis contre les grilles du Luxembourg). Arrivé chez moi j'ai passé une bonne demi-heure praying to the porcelain god et j'ai finalement trouvé mon lit je sais pas trop comment…
Voilà, on est le lendemain, il est 6 heures et après moult aspirines j'ai toujours le bide retourné et la tête comme un melon trop mûr. Donc je tire mon chapeau à Marc qui a pris 4 verres, quant à moi, le Rio Grande c'est finit et pour longtemps.
Sur ce, je vous laisse, je crois que je vais retourner mettre la tête dans la cuvette des chiottes…