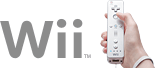 I just received an email this instant from Amazon. Here's what it says:
『Wii』 予約受付日のお知らせ!

11/17(金)より、予約を開始いたします。購入ページへのリンクは、受付予定日(時間は未定です)にゲームストア にて表示されますので、ご確認ください。
注文数が確保できる商品数を上回った場合は、注文のキャンセルをさせていただく場合があります。その際はEメールでご連絡いたします。
Which basically means that Amazon opens their pre-orders for the Wii tomorrow (no info about the exact time though). Now I'm torn between waiting in-line in the cold at BicCamera on the day of launch, Saturday December 2, or getting it on internet and running the risk of getting it one week late (I'll probably be in China on a business trip the week just after launch and will not be able to receive the box from Pelican Delivery).
ああっ、どうしようかなぁっ!