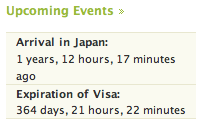 Today was my 1st anniversary of coming to Japan. It's been a great year for me, I really feel like I've accomplished a lot of things and it makes me feel great. I met a lot of great people here, had a lot of fun and learned a lot.
One regret I have is that I haven't had the time (and the financial resources) to travel around Japan as much as I would've liked. My "new year resolution" will be to correct that and visit the country outside of the Tokyo area. I'm already starting by planning a trip to the onsen in Izu with the girlfriend in the coming weeks. More about it will come soon…
So here's to 1 year in Japan, hoping for a lot more to come.