SoftBank has just published their new deals for iPhone owners wanting to buy one of the newer iPads.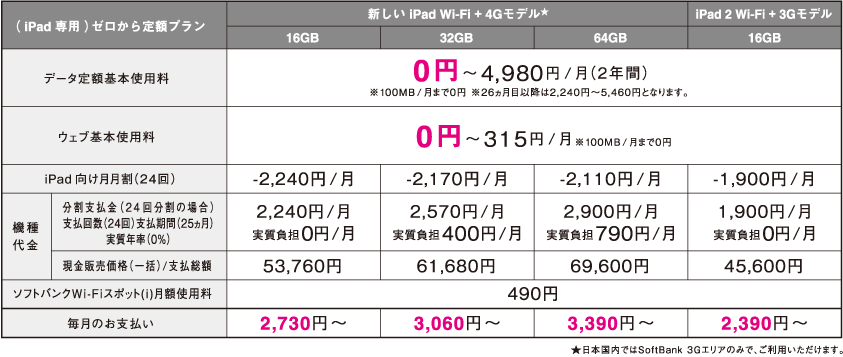 The mechanics of the plan are the same as for the iPad 2 campaign last year, you get a full rebate on the 16GB model's price, but that applies only on the data plan charge. So if you use less than the 100MB free allotment of 3G/4G data, you will still have to pay at least the iPad's price (split over 24 months).
Now the big differences with the iPad 2 campaign we had last year:
The iPad 2 3G model used to be offered by SoftBank for the same price of the WiFi only model at Apple. This is not the case anymore. You will pay a ¥10,960 to ¥10,800 premium for the 4G model over the simple WiFi model.
The access to SoftBank WiFi hotspots which was included for free before is now charged at ¥490 a month.
This makes this campaign plan much much less interesting than its predecessor.
3G or 4G speeds?
Additionally, the page adds an enigmatic note next to all mentions of 4G
日本国内ではSoftBank 3Gエリアのみで、ご利用いただけます。

Inside Japan, can only be used in SoftBank's 3G area.
I suspect this is a shrouded way of saying that the iPad sold currently will only work with SoftBank's 3G network, corroborating other sources around the web that it is incompatible with 4G LTE network bands used outside the US.