Updated 2011/11/09 — see bottom of the post
For the iPhone 4S launch, Masayoshi Son, Softbank's CEO, decided to go all out to keep his customers from going to aU by KDDI.
Fun Fact: during his keynote on October 7th, one day after Steve Jobs passing away, Son-san declared tearfully that these campaigns were his gifts to spread the Steve's "art work" (he used the word 作品 as opposed to 製品) to as many people as possible.
One of these campaigns is for the iPad and it's description is very confusing. See the figure below: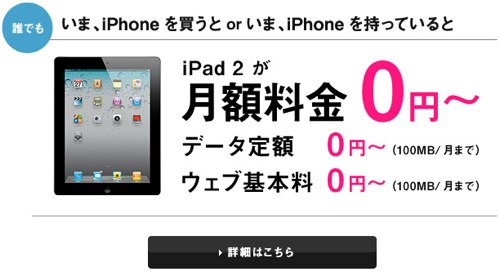 Many people take this to mean that you can get a 16GB iPad for free, ¥0 per month, if you are already a Softbank iPhone subscriber. That's not true because ¥1,860 monthly discount on the second to last line only applies to the communications charge and not to the iPad hardware monthly cost. Going to the cost simulation page shows this well: your minimum monthly bill is still ¥1,860 (the cost of the 16GB iPad 2) and the data plan is free up to 100MB.

So in the end we get a free data plan if we don't use 3G internet (almost don't use it, 100MB a month wouldn't get you much farther than regular email checking). That sounds like a classic mobile operator swindle: giving you something for almost free and then hammering you with extra high fees whenever you go over the pathetically low usage limits. Let's look at the data plan details: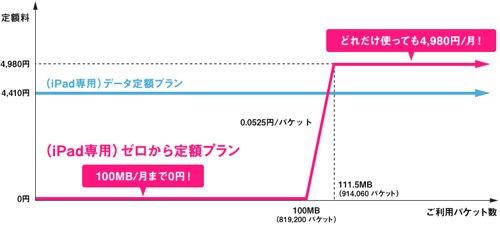 So yes, free for 100MB, capped at ¥4,980 over 111.5MB or you could choose to just pay a flat plan ¥4,410 every month whatever your usage. You end up paying a ¥470 premium for the flexibility of paying nothing the months when you almost don't use 3G… Is that actually a good deal? I put the numbers into Numbers to see: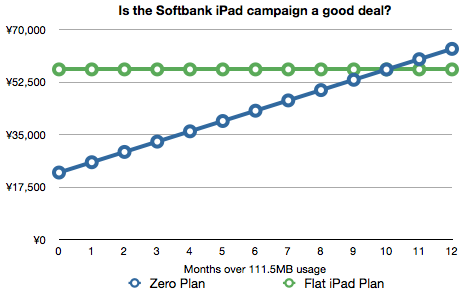 iPad 2 16GB + ZERO data plan under 100MB usage per month:

¥22,320 per year

iPad 2 16GB + ZERO data plan over 111.5MB user every month:

¥63,540 per year

iPad 2 16GB + FLAT data plan:

¥56,700 per year
So over the course of a year you would be saving money only if you stay under the 100MB cap for more than 3 months.
Is that a good deal? If you only use the 3G for emailing in the train and turn off the modem when not in use (letting it check your mail every 15min in the background would significantly bump your usage) then it could be. But having already an iPhone, do you really need to check your email on your iPad?
Myself, I will probably pass on that campaign. What would really be interesting would be a tethering option for my iPhone at a reasonable price… Well reasonable would really be ¥0 as I consider I'm already paying for the bandwidth and how I use it is none of Softbank's business. An "acceptable" price would be maybe ¥1,000.
Please tell me in the comments what you think about this campaign.
Update: Very good point added in the comments by Maddy. If you get an iPad from Softbank for that campaign and remove the SIM card, never to use it again, you still get to download the Softbank WiFi roaming profile that lets you connect to all Softbank / FON / YahooBB / Tokyo Metro access points for free (that's a pretty extensive network in Tokyo) and a GPS to boot. That's a clear advantage over buying a WiFi only version from Apple for the exact same price.